USDA Asked to Crackdown on Misrepresentation in Organic Marketing
Case Study: CBD products and the "Wild West" of fraudulent labels
THE STORY: A QUICK OVERVIEW
Fraudulent marketing claims are predominant in complaints adjudicated by USDA's National Organic Program

With illegal labeling, and many more serious violations of law, USDA rarely ever levies a fine or decertifies a perpetrator, despite "willful" consumer fraud

OrganicEye looks at the "Wild West" of CBD labeling as a case study and suggests the USDA crackdown on illegal website claims in addition to labeling violations

The new OrganicEye report on CBD will help guide shoppers in choosing the safest, authentic organic products
WASHINGTON—Since Congress charged the USDA with protecting organic stakeholders from fraudulent practices, illegal organic marketing claims have been the most common violations reported to the agency. In a new report, industry watchdog OrganicEye examines the rapidly expanding CBD market, uncovering numerous examples of gross violations flying under the radar screen.
In its report, Spotting the Hackers of Hemp: The Value of Authentic Certified Organic CBD Products, OrganicEye offers examples of companies claiming organic status without going through the rigorous third-party inspection and auditing process required by federal law. As with food, organic CBD eliminates the risks and hazards of environmentally dangerous farming practices, including the use of synthetic fertilizers, pesticides, sewage sludge, and GMOs. Organics also shuns toxic food ingredients and food processing substances like volatile solvents.
"In addition to representing conventional hemp products as organic, marketers have engaged in illegal subterfuge, including creating their own 'organic' logos because they can't use the official USDA seal and using the word 'organic' in their brand names when the products do not qualify for organic labeling," said Mark A. Kastel, a 30-year industry veteran and director of OrganicEye, a project of Beyond Pesticides.
The meteoric growth of hemp production, and associated products, was made possible by the congressional Farm Bills of 2014 and 2018 (with the stipulation that cannabis contain no more than 0.3% tetrahydrocannabinol, or THC).
With aggressively growing consumer demand for hemp-derived cannabidiol (CBD) and related products, it is not surprising that some marketers engage in misleading or even fraudulent practices. According to the report, the global CBD market is expected to expand at a compound annual growth rate of 22.2% from 2019 to 2025, putting it on track to reach $23.6 billion by 2025.
"In previous investigations, including Pushing for Organic Cannabis as Industry Grows, Beyond Pesticides has found widespread use of toxic pesticides in hemp (or cannabis) production, making the need for legitimate certified organic labeled product especially important to public health and environmental protection," said Jay Feldman, executive director of Beyond Pesticides. Because the U.S. Environmental Protection Agency (EPA) has not fully evaluated the potential hazards of pesticide residues from its production and cumulative risk, exposure through ingestion, absorption through the skin, and inhalation raises serious safety concerns, according to various scientific sources, including Environmental Health Perspectives.
OrganicEye's research on CBD was generated in response to multiple accounts of questionable organic claims sent to the project by industry stakeholders and concerned consumers.  The report reviews organic claims made by a cross-section of manufacturers of CBD products; provides an overview of organic CBD production and the certification process; and separates authentic organic products—certified organic from the farm to the consumer—from those with unsubstantiated organic claims.
Many of the companies investigated were properly certified by an accredited certifier under the USDA organic program.  When companies indicated that their products were organic but were not able to provide verification or evidence that the products were actually produced and packed by a certified organic operation, OrganicEye included them in a formal legal complaint filed with USDA's Agricultural Marketing Service.  
"We believe many of those claims are misleading, at best, and likely illegal, when the company itself is not certified," Kastel added.
The USDA Certified Organic seal signifies that rigorous standards have been met by both the farm producer and the processor—and subsequently verified by a USDA accredited certifying agency. Some companies that do not appear to be certified organic have created their own logos to use instead, often appearing to mimic the official seal. Trust the Earth Hemp has designed a number of logos, including one that states "100% Organic." These designs are featured prominently on their website and product labels:

Kore Organic™ first came to OrganicEye's attention when one of its products was recalled due to the discovery of high levels of lead. The product label posted in the recall notice included ingredients such as "Pure Cannabidiol (CBD)," "All Natural Hemp Oil," and "Artificial Flavors." The Kore Organic™website and some product labels also feature their own "Organic CBD" logo: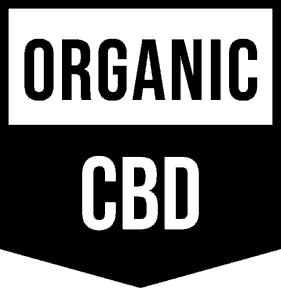 "We believe many of those claims are misleading, at best, and likely illegal, when the company itself is not certified"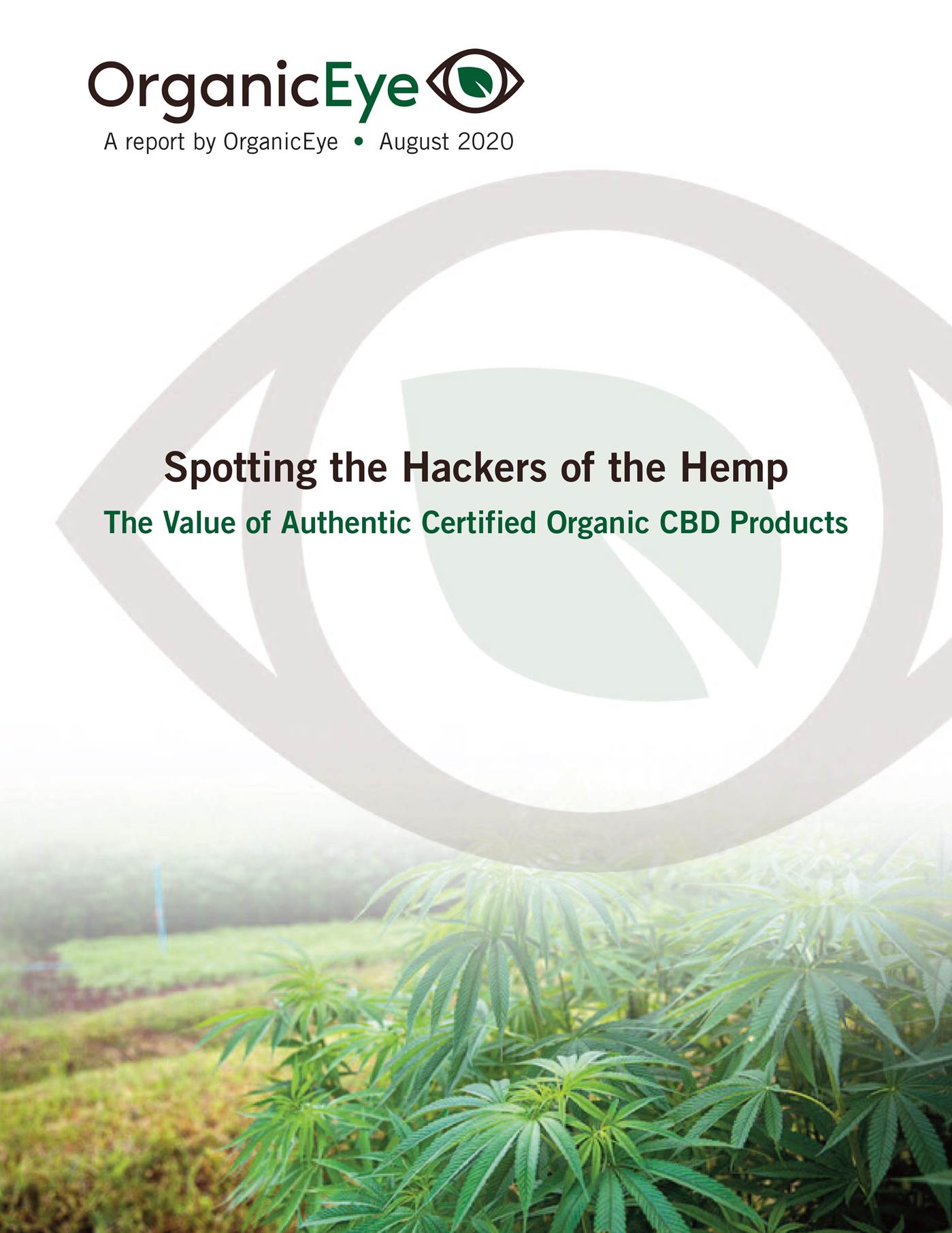 "Organic claims on websites [of non-certified marketers] are almost too numerous to mention," stated Kastel. Phrases such as "organic," "organically grown," "organic methods," and "organic farming practices" are common but without USDA organic certification, they are not verified. For instance, Premium Jane Natural Tincture Full Spectrum CBD Oil is described as being "Sourced from 100% organic Kentucky hemp." However, the ingredients are not noted as being organic and the product does not appear to have USDA organic certification.
OrganicEye also filed formal complaints against marketers using "organic" in their corporate or brand names when not exclusively selling certified organic products. The report states that although there has always been some degree of fraud, misuse, and misleading marketing in labeling language in the organic industry, the wild west of CBD products seems to be more flagrant.
"This may be good for the health of the industry," said Jahan Marcu, PhD, Editor in Chief at American Journal of Endocannabinoid Medicine. "Companies that have gone through significant challenges to be compliant, and do things right, will appreciate this report."
Along with concerns about organic authenticity issues, there have been numerous consumer interest, media, and regulatory exposés highlighting CBD potency inaccuracies and contaminants. The Clean Label Project's investigation into the true content of America's best-selling CBD products was covered by NBC and CBS. In addition, FDA conducted a testing and labeling investigation in 2019.
The OrganicEye report marks the first time anyone has drilled down on the organic claims that have become so ubiquitous in the marketing of CBD products.
Kastel said OrganicEye is requesting that the USDA promulgate new regulations that will require online retailers, whether selling organic CBD products or food, to disclose on their websites the name of the accredited certifier—just as it is legally required on packaging. "Like a brick-and-mortar retailer, where consumers can inspect the packaging and verify the required organic certification disclaimer, shoppers online should have the same ability," he added.
"The good news is there are plenty of choices for legitimate certified organic CBD products listed in the appendix to our report, "Kastel stated. "USDA needs to step up their game to protect ethical industry participants and consumers who are willing to invest in authentic organic products."
-30-
MORE:
OrganicEye also sent a letter to the Federal Trade Commission (FTC) requesting that they carefully investigate organic claims in the CBD industry because of the widespread misleading marketing claims discovered.
"Consumers reach for organic products in an effort to make a better choice for their health and the environment," said Jaclyn Bowen MPH, MS, the food and consumer product quality system engineer and executive director of Clean Label Project. "OrganicEye's investigation looks past the blanket marketing claims to reveal the truth. While many organic CBD companies are on the up and up, it is clear that stricter oversight is needed of this industry sector."
One of the bright spots in USDA enforcement, according to OrganicEye, is their expeditious addressing of labeling improprieties. "It is our understanding that they are subcontracting these complaints when filed with the National Organic Program," said Kastel.
The problem with labeling enforcement is twofold, according to Kastel. "There should be a more systematic effort by the USDA to scrutinize the marketplace and come up with violations rather than depending on citizens and public interest groups."
"Furthermore, the vast preponderance of these violations, when confirmed by the USDA, receive no economic penalties that would prevent repeated offenses. The USDA is just happy to expeditiously remove them from the marketplace," Kastel added.
OrganicEye contends that it is a profound deficiency in the National Organic Program to settle violations of law, as the default, by signing a consent decree without any meaningful penalties.
"We need vigorous enforcement and for NOP to take advantage of the fines and penalties that Congress has provided in order for there to be a serious deterrent to these shenanigans in the marketplace," Kastel stated.