Lawsuit Alleges Violation of Federal Law and a Green Light for Fraud
US Family Farmers Competitively Damaged, Consumers Deceived
STORY IN A (HAZEL)NUTSHELL:
Under federal law all organic farms

must

be inspected on an annual basis, as per the congressional mandate in the Organic Foods Production Act of 1990.
Without legal authority, the USDA has permitted landholders in developing countries who are producing coffee, nuts, chocolate, tea, herbs, and other specialty crops to be banded together by agribusinesses in "community or cooperative" groups without each farmer being subject to annual inspections.
Some international certifiers, such as French-based EcoCert (an organization that has been in trouble with the USDA and international bodies over the years), certify over 600 groups alone, likely representing many thousands of individual farmers and agribusinesses.
It appears that the vast preponderance of these "groups" are

nothing more than a list of suppliers to a specific processor/marketer

—

not

based on a cooperative or geographic community.
As few as 2% of growers are formally inspected annually and the system is rife with conflicts of interest. For-profit certifiers are contracted by agribusinesses and subsequently allow grower certification/inspection to be administered by the businesses themselves, thus removing the independent, "third-party" inspection that is part of the legally required process. Processors are also falsely categorized by the certifier as grower-members.
The bottom line: Food is being imported under the cost of production, forcing US growers — who are complying with the law — out of business. Are consumers being defrauded? Likely, but there is virtually no way to know conclusively (more investigations to follow).
Eugene, Ore. — When Oregon organic hazelnut grower Bruce Kaser started looking into why organic hazelnut imports from Turkey were priced so low, close to conventional hazelnuts, he found he was pulling on a thread that had the USDA certification of foreign commodities unraveling. His research exposed a systemic, conflict-ridden scandal, and led to the filing of a federal lawsuit on October 17 against the USDA, alleging a breach in the intent of Congress' Organic Foods Production Act (OFPA).
Kaser, a certified organic farmer and semi-retired attorney, would later team up with well-known organic industry watchdog, OrganicEye. Their inquiry revealed that growers in Turkey and other exporting countries were being allowed to skip the legally-mandated annual inspections, including field inspections and audits of the documentation of all purchased inputs and commodity sales, that are required of growers in the US. The findings are a shock to many US farmers who assume imports, under the USDA accreditation program, are held to the same rigorous and expensive process to ensure their authenticity.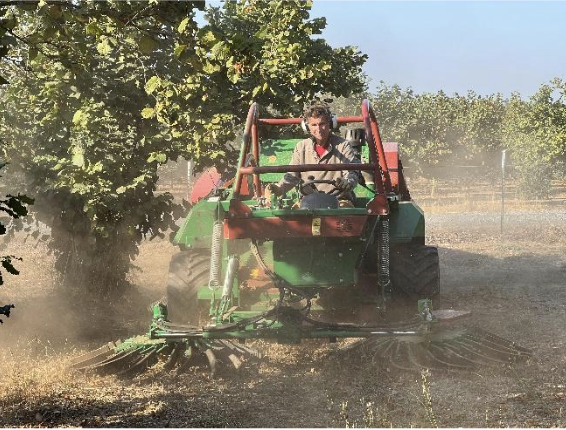 Foreign Imports Skirt Scrutiny — US Farmers Competitively Injured
"What has American farmers seeing red is not just the fact that most, probably nearly all, foreign growers are being exempted from annual inspections, one of the vital requirements of organic certification," said Kaser. "It's a false representation that 'group certification' is supposed to assist small landholders who are part of compact indigenous communities or cooperatives. It's actually economically aiding large agribusinesses and retailers."
According to OrganicEye, the investigation found that the only thing members of these groups had in common, exempting them from inspection by accredited certifiers in the eyes of the USDA, was being on the supplier list for a corporate agribusiness that was processing and/or exporting commodities.
Additionally, although purported to allow small landholders to participate in the organic industry, there seemed to be no scale limitations to members of the groups. And the USDA has no legal definition for "geographic proximity" within groups. One of the largest business enterprises in international certification submitted formal comments to the USDA on the subject: "ECOCERT is not in favor of a strict limitation or definition of the geographical proximity of a group – as long as all members of a group are located within the same country."
USDA Ignores International Trade Commission Investigation and Legal Complaint
Kaser first asked the U.S. International Trade Commission to investigate when he learned about cheap organic hazelnuts flooding the US market but couldn't find any certified Turkish organic growers on the USDA's "Organic Integrity" database. The USITC found that USDA-accredited certifiers were issuing organic "crops" certificates directly to agribusiness food processors, which made the farmers invisible and untraceable (unlike organic crops produced in the US).
Taking the Trade Commission's findings, the next step in seeking justice for American organic farmers was filing a formal administrative complaint with the USDA in July 2023. Other than acknowledging receipt, the agency has not responded, which led to the current lawsuit filed in District Court in Oregon.
"This exemption, although not technically permitted under the law, was originally conceived to help low-income farmers access the organic marketplace," said Mark Kastel, Executive Director of OrganicEye, who has monitored organic rulemaking and regulation for over three decades. "Group certification was originally structured to allow esteemed members, possibly elders, of these communities to act, in essence, as subcontractors for inspection, with certifiers overseeing and spot-checking their work. However, what the USDA referred to as a 'scheme' has turned into a racket, with agribusiness puppet masters in charge of inspections."
A "Shadow" Parallel Certification System Ripe for Fraud
In reality, for-profit certifiers, most based outside of the US, are contracting with agribusinesses to oversee their own suppliers, thus removing the independent, "third-party" inspection that is part of the legally required process the industry has used to build credibility for the USDA organic seal and food packaging.
"In a convoluted misrepresentation, the agribusinesses themselves are then falsely listed as one of the group's farmer-growers, typically producing nuts, bananas, chocolate, or some other commodity," Kastel added.
Under updated regulations, it appears that as few as 2% of growers in a group are annually spot-checked by the actual certifier. In a group of 100 farmers — and some groups are many times larger — only two growers would be inspected and one of the two might be a faux grower (the agribusiness acting as what OrganicEye calls "the ringmaster"). With hundreds of groups worldwide, this equates to many thousands of uninspected farms illegally competing with fully inspected US growers.
"The documented conflict of interest, and the potential for fraud, in this USDA-sanctioned 'shadow' inspection/certification program — which is fully supported by the Organic Trade Association, the dominant industry lobby group — is palpable," said Kastel.
Even under newly enhanced regulations adopted after repeated incidents of major fraud, commonly known as the Strengthening Organic Enforcement rule, the USDA solely delegates the authority to for-profit certifiers working overseas to design their own group administrative systems and internal controls to prevent fraud by their customers.
Kastel added, "We're trusting the certifiers, whose primary motivator is profit, to oversee their agribusiness 'clients,' who in turn are responsible for overseeing all their own suppliers (i.e., the group members)."
Seeking a Judicial Remedy — Filing Federal Lawsuit in Eugene, Oregon
If successful, the lawsuit (Pratum Farm vs. USDA: Case 5 U.S.C. § 706), filed by Mr. Kaser's Oregon-based certified organic operation, would result in a court judgment declaring grower group certifications illegal and directing the USDA federal officer in charge of the National Organic Program (currently Dr. Jennifer Tucker) to instruct certifiers to immediately cease grower group certifications.
"It's an awful example of administration by the USDA. It's frustrating and harmful to watch literally tons of imported hazelnuts and other high-value commodities flooding domestic markets from exporters and farmers who have been able to skirt the system," Kaser stated.
-30-
MORE:
Because of the secrecy under which the USDA's National Organic Program operates, it is unknown to what extent group certification is utilized domestically. However, veteran organic inspectors and certifiers have told OrganicEye investigators that group certification has been widespread in the US amongst Amish farmers and some vertically-integrated corporate livestock producers. Its current status, domestically, is the subject of a separate investigation by OrganicEye.
One of the five foreign-based, for-profit certifiers targeted in the investigation and named in the administrative complaint filed in July, was French-based EcoCert. The for-profit company certifies thousands of organic operations in 94 countries worldwide through its 21 subsidiaries. They have faced enforcement actions by US and European Union regulators on a number of occasions yet are still entrusted with overseeing grower groups without annual inspections by qualified and trained staff.
The potential for fraud is ripe. Some processor/exporters involved in the group certification process in Turkey, a country that has been implicated in large-scale organic fraud in the past, have been traced using geo-tracking to at least one auto repair shop and one gas station. Both the repair shop and filling station were listed in the "Organic Integrity" database maintained by the USDA during the investigation but have since been quietly removed without explanation.